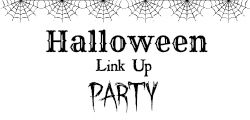 I honestly love Halloween so much because it's the perfect combination of creepy and fun! I'm linking up with some other great bloggers today- be sure to click the Halloween Link Up party button to read more Halloween posts!
So I've recently finished my makeup artistry class at school & I'm pretty excited about it! I'm hoping I'll really be able to use it since it's something that I love doing. We did some special effect makeup for Halloween which I think turned out pretty disgusting.. or pretty awesome.
We learned bruising and how to do a black eye. We hadn't eaten dinner yet, so going to grab a bite to eat AFTER I created my black eye was interesting. People STARED. And looked so concerned. Some lady went to hold the door open for me at Zupas but wouldn't move far enough over for me to actually get in the door because she couldn't stop staring. People would look away quickly and then look back giving me extreme cases of the pity smile. I wanted to start fake crying, but I refrained.
For the Fun Part of Halloween:
Road Rash.. my poor arm..
Zombie Nails..

gag right??
For the Creepy Part of Halloween:
Enjoy this terrifying picture I found on the internet. Vintage Costumes *Shudder*
HAPPY HAPPY HALLOWEEN!!